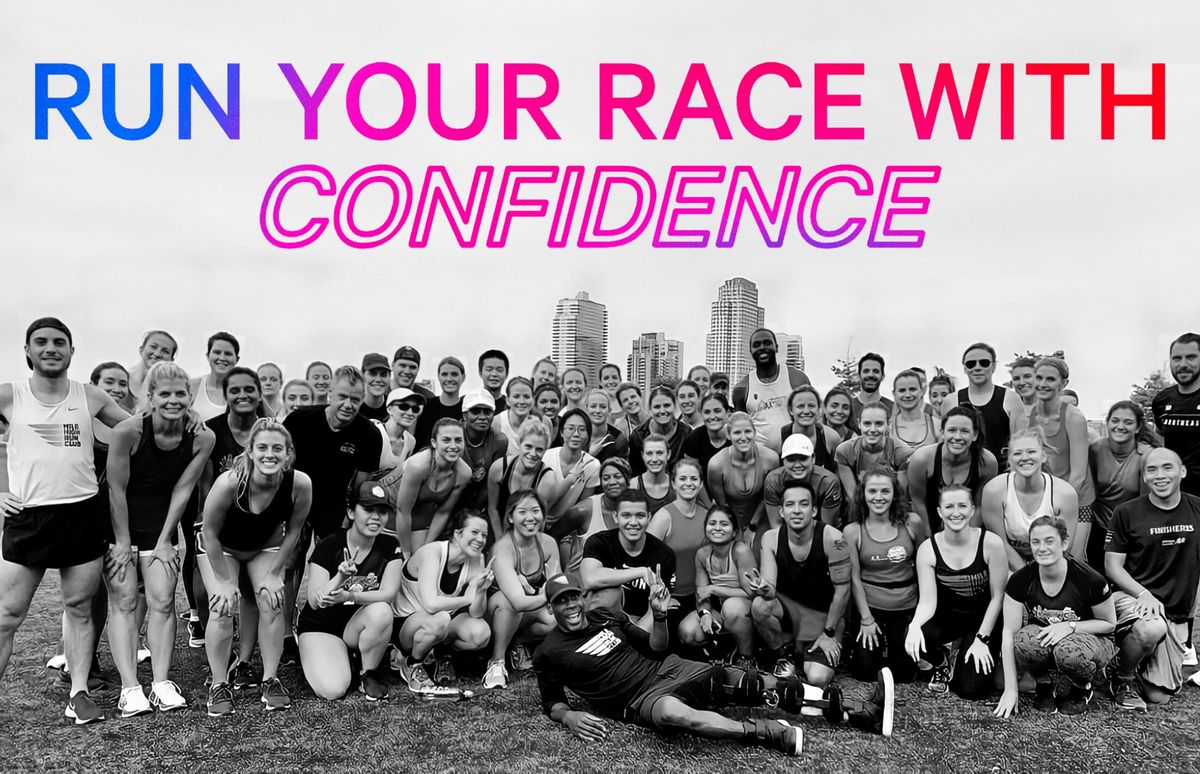 We're excited to get you race ready! Our 12-week fully customized training program has sold out every year. Why?
Because it works.
We'll learn about you as an athlete and human. Then Olympian and Mile High coach, John Henwood, will utilize state of the art software to build a plan that is challenging, yet achievable, and designed for you to achieve your goals.
A personalized training plan designed by experts and powered by group training— this is our proven formula to make you feel confident, prepared and ready on race day.
This training plan is perfect for the NYC Half, Brooklyn Spring Half, Rock n' Roll DC Half, and any other Half Marathons in the month of March.
THE DETAILS
12 week, day-by-day training plan that can be tailored for any Half Marathon in March
Price: $499 (payment plan is also available)
12/26: Program begins with 2 weeks of on-your-own base building— can be done anywhere you are
1/9: Group training officially begins
"This was my 2nd half, but my first time training with Mile High. I can't believe what a difference the program made, not only in my overall time (shaved 34 minutes off), but also the whole experience. The coaches and group training really kept me showing up and even looking forward to it."— Jayson
WHAT'S INCLUDED
-Personalized 12 Week Training Program developed by Olympian John Henwood based on your current abilities and designed for your race and your goals. Begins 12/26 with 2 weeks of on-your-own base building. Group training begins 1/9.
-Personal Coach who will act as your main point of contact throughout your training to answer any questions you may have and/or make any adjustments to your plan as needed
-Final Surge App Access: State of the art software to manage your plan throughout training. Syncs across platforms like Garmin, Strava, STRYD, etc., provides workout and target zone analysis, and fosters collaboration / communication.
- 15 Indoor Classes: 1 indoor class per week for Mondays of group training plus 3 "bonus" classes to cover you for inclement weather or if you are unable to make some of the outdoor runs
- 20 Outdoor Runs: 2 outdoor runs per week of group training
1) Thursdays 6:30 pm @ Noho - East River Track Session led by Coach Yusuf
2) Saturdays 8:30 am @ UES - Central Park Long Run with Pacers
- Direct Access to Coaches for questions on running form and mechanics, race strategy, specific injuries, and/or individual training issues
- 6-8 Pacers to support all levels and speeds
- Educational Workshops
- Exclusive Discount at Finish Line PT

- Use of MHRC studio facilities, including showers, lockers, and towels for all runs

For more info, check out the FAQs below!
"This was my first race and I was SCARED! But my plan took all the guesswork out and everyone was super experienced and eager to help me throughout the program. I couldn't believe it, but I ACTUALLY did feel confident come race day."— Becky
A PERSONALIZED PLAN. DESIGNED BY EXPERTS. POWERED BY THE PACK.
These are the 3 tenets of our proven formula to make you feel confident, prepared and ready on race day— and yes, you need all three!
A cookie cutter plan you found on the internet does not take your goals, your history, or your condition into account. It does not take you into account. We do all that and then we design a day-by-day road map to take you from where you are to where you want to be. You and your goals aren't cookie cutter, your marathon training shouldn't be either.
Not only will your training plan be specifically designed for you by an actual Olympian, but you will have the support and expertise of world class run coaches, pacers and experts of the distance throughout your training. You are not training for a 5K, it is very likely that something comes up somewhere along the way. You can feel confident and secure that, from start to finish, you will have a team of experts able to adjust your program and get you to the finish line safely and effectively.
Studies show that athletes are more motivated, push themselves harder and are more likely to keep showing up when training with a group. Marathon training doesn't have to be a long and lonesome grind, it can be a meaningful and memorable experience of camaraderie and working toward a shared goal. And not only is it more fun that way, but it is actually more effective.
Q: HOW DOES THE PAYMENT PLAN WORK?
A: 5 payments of $110 per month for a total of $550.You will be charged every 4 weeks. Once your plan is received, you are committed to fulfill all 5 payments, no exceptions. Initial charge will be on date of purchase, but classes activate on date of first use.
Q: CAN YOU EXPLAIN THE PROCESS AND HOW THE PROGRAM IS GOING TO WORK?
A: When you sign up, you will receive a questionnaire that will ask you to provide details, such as your running/race history, your current pace, your goals, history of injuries, what race you're doing (if not NYC), etc. Using this information, you will receive a plan designed by Olympian John Henwood that is specifically designed to take you from your current level to the goal you laid out for yourself. You will then be assigned a personal coach who will be your main point of contact throughout the program for any questions or challenges you may have along the way.. As the program progresses, he/she will continually adjust your training plan to ensure that it is still the right course of action for you. Each week, you will have 2 outdoor runs with the training group— on Thursdays and Saturdays. Thursdays will typically be dedicated to speed workouts at the East River Track with Coach Yusuf. The Saturday long runs will vary depending on the mileage your training plan calls for that day. Mondays, your training plan will include indoor runs. The sessions vary per week. On the days you do not have an outdoor run with the group, you will have training to do on your own that is specific to you and your plan.
Q: WHAT HAPPENS TO PROGRAM CLASS CREDITS IF I DON'T USE THEM ALL AND HAVE SOME LEFT OVER?
A: Your class credits will expire 30 days after Race Day.
Q: I'M NOT AN ADVANCED RUNNER... MORE OF A "CASUAL RUNNER," CAN I STILL DO THE PROGRAM?
A: This program welcomes runners of all levels! We do not have a base mileage requirement and the program is tailored to your specific level at the time you sign up. You will be sent a questionnaire upon signing up, which will help your coach with customizing your personal plan. Keep in mind that as you progress, your goals may change, and he will adjust your plan accordingly.
Q: SHOULD I BE ABLE TO COMPLETE A CERTAIN MILEAGE TO SIGN UP FOR THE PROGRAM?
A: This program welcomes runners of all levels! We do not have a base mileage requirement and the program is tailored to your specific level at the time you sign up.
Q: WHAT PACER TIMES WILL YOU OFFER?
Our pacers will range up to 11:30 minutes per mile. We will adjust pace groups as needed based on who is in the program.
Q: WHERE AND WHEN DO THE OUTDOOR RUNS MEET? HOW FAR WILL WE BE RUNNING?
A: The runs will take place outdoors two times per week. The Thursday sessions will leave from our Noho studio at 6:30 PM and the Saturday long run sessions will leave from our UES studio. Your coach will send a detailed email in advance of every run, outlining what your session entails, so you will never be taken by surprise and will be able to plan accordingly.
Q: WHAT WILL THE OUTDOOR RUNS BE LIKE?
You can expect the Monday and Thursday sessions to last for approximately 90 minutes. Mondays will be mostly dedicated to drills, form, and strength, while Thursdays will be dedicated to speed workouts. The Saturday long run varies depending on the miles you will be running that day, as well as the pace you are running. The sessions vary per week, but generally, you can think of it this way: on Mondays, we get strong, on Thursdays, we get fast, and on Saturdays, we go the distance and build endurance!
Q: WHAT IF I CAN'T MAKE ONE OF THE OUTDOOR RUNS?
Should you miss a session, no need to worry, a substitute session will be recommended in the weekly email you receive. We will also be providing you with 3 "bonus classes" to use indoors and supplement your training.
Q: ARE WE GUARANTEED ENTRY INTO A RACE WITH THE PROGRAM?
Q: I'M NOT VERY FAST, WILL I BE ABLE TO KEEP UP WITH THE GROUP FOR THE OUTDOOR RUNS?
A: Our goal is to get you stronger first, and then build the speed, so pace isn't the primary concern in the early days. We certainly try to accommodate all levels and runners and offer pace groups up through an 11-minute mile— our pacers are really wonderful and will help you along your journey. Plus, you can also be sure that our training plans are formatted in such a way that you will quickly get up to speed!
Q: THIS IS MY FIRST RACE— I'M SCARED!!!
A: It is totally natural to be nervous! The choice to run a half marathon is an enormous undertaking that requires enormous commitment, strength and courage. That said, we guarantee that we will have you feeling 100% prepared come race day. Once you sign up, you will receive a survey that will help your coach to create a customized plan for you. Keep in mind that it is a working plan, and can be adjusted as you progress in the program. Our goal is to get you to the starting line healthy, strong and confident. Come race day, you will be nervous and feel butterflies, but you will also be extremely prepared and ready.
Q: I'M GOING TO BE AWAY THE FIRST WEEK OF THE PROGRAM (OR ON X DATE)— WILL I MISS ANYTHING CRUCIAL?
A: Since your coach customizes each plan, you will have the opportunity to reach out to him after you have signed up and inform him about your upcoming plans. The plan is created for you to progress on a weekly basis; that said, you will not have heavy mileage the first week, nor will the speed work be too aggressive. Your coach will be available to work with you and provide necessary adjustments to your training. He might recommend that you try to do some training on your own while you are away, but one-week vacation at the start of the training will not be a setback.
Q: I'M SUPER BUSY WITH X AND DON'T HAVE TIME TO COMMIT TO 6 DAYS OF TRAINING EVERY WEEK — CAN YOU ADJUST THE PLAN FOR ME?
A: We understand that time is one of the rarest commodities for all of us, but our number one concern is to make sure you show up race day injury-free and 100% prepared. If you are unable to commit to 6 days some weeks, then we can definitely work with that, but if you are unable to commit to 6 days every week, then we would recommend a different program. Note: In total, your training plan will consist of 6 days of training per week. You will have 3 days of scheduled group runs, 3 days of on-your-own work and strength training, and 1 day of recovery.
WHO DO I CONTACT IF I HAVE MORE QUESTIONS?