This is your Starting Line
Five boroughs, five bridges, one iconic race. The NYC Marathon is back in 2021, and we're excited to get you run-ready! Led by Olympian John Henwood, our 18-week fully customized training program has sold out every year and boasts a 70% successful PR rate.
Not running NYC? With Boston, Chicago, Marine Corps, Philly, and so many other fall marathons coming back this year, Coach Henwood can adjust this program for your goals and your race.
Need to Know:
- 18-week training program for $549

- Week One starts July 5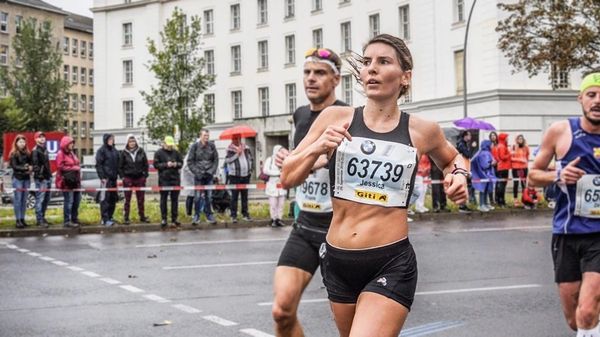 Now in its sixth year, our Fall Marathon Training Program has delivered results for hundreds of athletes, many of whom return year after year.
We give you a personalized program coupled with a zero-excuse-full-accountability atmosphere between our group runs and studio classes.
📈 Tailored training program geared towards your goals

🤳 Direct coach access throughout your training

💪 Strength training plan to complement your running

🏃🏾‍♀️🏃‍♂️🏃🏿🏃‍♀️ Meet and be motivated by fellow runners taking on 26.2
🗒️ Training plan based on your current abilities and your specific goals
🏃🏾‍♀️🏃‍♂️🏃🏿 Three outdoor runs per week:
1. Monday 7 pm @ Noho - East River Track with a focus on strength and drills
2. Thursday 7 pm @ Noho - East River Track session
3. Saturday Long Run 8 am @ UES - Central Park long run with pacers
💬 Weekly emails from Coach Henwood to keep you up to date on training
🎟️ 10 in-studio class pack
🎧 Access to Mile High On-Demand app
📙 Educational workshops (details to follow during the program)
🚿 Use of MHRC studio facilities - including showers, lockers, and towels - for all runs
For more info, check out the FAQs below.
Not sure where to start? We'll be hosting a Q&A at the PUMA 5th Ave Flagship (49th street) with your coaches on Thursday, June 24th at 7 pm.
Q: CAN YOU EXPLAIN THE PROCESS AND HOW THE PROGRAM IS GOING TO WORK?
When you sign up, you will receive a questionnaire that will ask you to provide details, such as your running/race history, current pace, goals, history of injuries, what race you're doing (if not NYC Marathon), etc. Coach John Henwood will then use this information to craft a training plan specifically designed to take you from your current level to the goal you laid out for yourself. As the program progresses, he will continually adjust your training plan to ensure that it is still the right course of action for you.

Each week, you will have three outdoor runs with the training group on Mondays, Thursdays, and Saturdays. Mondays will be mostly dedicated to drills, form, and strength, while Thursdays will be dedicated to speed workouts. The Saturday long run varies depending on the miles you will be running that day, as well as the pace you are running. On the days you do not have an outdoor run with the group, you will have training to do on your own specific to you and your plan.
I'M NOT AN ADVANCED RUNNER... MORE OF A "CASUAL RUNNER," CAN I STILL DO THE PROGRAM?
This program welcomes runners of all levels! The program is tailored to your specific level when you sign up. You will be sent a questionnaire upon signing up, which will help Coach John Henwood customize your personal plan. Keep in mind that your goals may change as you progress, and he will adjust your plan accordingly.
SHOULD I BE ABLE TO COMPLETE A CERTAIN MILEAGE TO SIGN UP FOR THE PROGRAM?
We do not have a base mileage requirement. That said, in general, those that get the most out of past years' programs were able to run five miles continuously by week one.
WHAT PACER TIMES WILL YOU OFFER?
Our pacers will range from 8:00 to 11:30 minutes per mile. We will adjust pace groups as needed based on who is in the program.
WHERE AND WHEN DO THE OUTDOOR RUNS MEET? HOW FAR WILL WE BE RUNNING?
The runs will take place outdoors three times per week. The Monday and Thursday sessions will leave from our Noho studio at 7 PM, and the Saturday long run sessions will leave from our UES studio at 8 AM. Coach John Henwood will send a detailed email in advance of every run, outlining what your session entails, so you will never be taken by surprise and will be able to plan accordingly. Should you miss a session, you can email John, who will adjust your plan not to impact your training.
WHAT WILL THE OUTDOOR RUNS BE LIKE?
You can expect the Monday and Thursday sessions to last for approximately 90 minutes. Mondays will be mostly dedicated to drills, form, and strength, while Thursdays will be dedicated to speed workouts. The Saturday long run varies depending on the miles you will be running that day, as well as the pace you are running. The sessions vary per week, but generally, you can think of it this way: on Mondays, we get strong, on Thursdays, we get fast, and on Saturdays, we go the distance and build endurance!
WHAT IF I CAN'T MAKE ONE OF THE OUTDOOR RUNS?
Should you miss a session, no need to worry, a substitute session will be recommended in coach John's email from the night before.
I'M NOT RUNNING THE NYC MARATHON, I'M SIGNED UP FOR DIFFERENT FALL MARATHON— DOES THIS MATTER? WILL I STILL BENEFIT FROM THE TRAINING?
The short answer: Yes.

You can absolutely sign up for the program if you run a fall marathon other than the NYC Marathon. Each year, we have several runners who train with us in preparation for Berlin, Chicago, and others. After you sign up for the program, you will receive a questionnaire to indicate the marathon you are running. Coach John Henwood will adjust your training accordingly and will provide a plan specifically for that race.

You can expect your Monday and Thursday sessions to be the same as the NYC Marathon runners (except for a few tweaks, especially when approaching the taper). Your Saturday long run may differ because you will be increasing mileage sooner than those running the NYC Marathon.
DOES THE PROGRAM INCLUDE INDOOR CLASSES?
The program includes 10 indoor class credits. We recommend you use these credits when you can't make one of the outdoor runs or when bad weather causes an outdoor session to be canceled.
I'M NOT VERY FAST, WILL I BE ABLE TO KEEP UP WITH THE GROUP FOR THE OUTDOOR RUNS?
Our goal is to get you stronger first and then build the speed, so the pace isn't the primary concern in the early days. We certainly try to accommodate all levels and runners and offer pace groups up through an 11:30-minute mile. Our pacers are really wonderful and will help you along your journey. ur training plans are formatted in such a way that you will quickly get up to speed!
THIS IS MY FIRST RACE— I'M SCARED!!!
It is totally natural to be nervous! The choice to run a marathon is an undertaking that requires enormous commitment, strength, and courage. That said, we guarantee that we will have you feeling 100% prepared for race day. Once you sign up, you will receive a survey to help Coach John Henwood create a customized plan for you. Keep in mind that it is a working plan and can be adjusted as you progress in the program. Our goal is to get you to the starting line healthy, strong, and confident. You will be nervous and feel butterflies on race day, but you will also be extremely prepared and ready.
I'M GOING TO BE AWAY THE FIRST WEEK OF THE PROGRAM (OR ON X DATE)— WILL I MISS ANYTHING CRUCIAL?
Since Coach John Henwood customizes each plan, you will have the opportunity to reach out to him after signing up and informing him about your upcoming plans. The plan is created for you to progress every week; that said, you will not have heavy mileage the first week, nor will the speed work be too aggressive. Coach John will be available to work with you and provide the necessary adjustments to your training. He might recommend that you try to do some training on your own while you are away, but a one-week vacation at the start of the training will not be a setback.
I'M SUPER BUSY WITH X AND DON'T HAVE TIME TO COMMIT TO 6 DAYS OF TRAINING EVERY WEEK — CAN YOU ADJUST THE PLAN FOR ME?
We understand that time is one of the rarest commodities for all of us, but our number one concern is to make sure you show up on race day injury-free and 100% prepared. If you cannot commit to six days some weeks, then we can definitely work with that, but if you are unable to commit to six days every week, we would recommend a different program. Note: In total, your training plan will consist of six days of training per week. You will have three days of scheduled group runs, three days of on-your-own work and strength training, and one day of recovery.
WHO DO I CONTACT IF I HAVE MORE QUESTIONS?